Blockchain technology has been revolutionizing various industries, and one area where its potential is being explored is in the realm of verifiable electronic voting. With concerns over the integrity and transparency of traditional voting systems, blockchain offers a promising solution to address these issues. In this article, we will delve into the concept of blockchain, its benefits in electronic voting, real-world case studies, and potential concerns and limitations.
Introduction
Electronic voting has gained popularity in recent years due to its convenience and accessibility. However, it has also faced significant challenges in terms of verifiability and trust. This is where blockchain, a decentralized and immutable digital ledger, can play a vital role. By leveraging blockchain technology, electronic voting systems can enhance transparency, security, and trust.
How Blockchain Works
Blockchain is a distributed ledger that records transactions in a transparent and secure manner. It consists of a chain of blocks, each containing a list of transactions. These blocks are linked together using cryptographic hashes, forming a tamper-proof chain of information. Key features of blockchain, such as decentralization, immutability, and consensus mechanisms, ensure the integrity of the recorded data.
Blockchain is a revolutionary technology that operates on the principles of decentralization, transparency, and immutability. At its core, blockchain is a distributed ledger that records transactions in a transparent and secure manner. Instead of relying on a central authority, such as a bank or government, blockchain relies on a network of computers, known as nodes, to validate and verify transactions. Each transaction is bundled into a block and linked together in a chronological chain, creating a tamper-proof record of all transactions.
One of the key features of blockchain is its transparency. Once a transaction is added to the blockchain, it becomes visible to all participants in the network. This transparency enhances trust and accountability, as anyone can verify the authenticity of a transaction. Additionally, blockchain's decentralized nature ensures that there is no single point of failure or control. The distributed nature of the network makes it highly resilient to attacks and manipulation.
Furthermore, blockchain ensures immutability, meaning that once a transaction is recorded on the blockchain, it cannot be altered or deleted. This feature provides a high level of security and prevents fraud or unauthorized changes to the data. Overall, blockchain's unique architecture and principles make it a powerful and transformative technology with numerous applications beyond financial transactions.
Challenges in Electronic Voting
Traditional electronic voting systems face several challenges, including the lack of verifiability and trust. Without a robust mechanism to verify the accuracy of the votes, it becomes difficult to ensure the legitimacy of the election results. Additionally, concerns about potential tampering, hacking, and voter fraud further undermine the credibility of electronic voting.
Verifiability: One of the main challenges in electronic voting is ensuring the verifiability of the voting process. Without a robust mechanism to verify the accuracy of the votes, it becomes difficult to establish trust in the electoral outcome.
Trust: Trust is a crucial factor in any voting system. Traditional electronic voting methods often face skepticism and doubts regarding the integrity of the process, which can undermine public confidence in the electoral system.
Security: Security is a major concern in electronic voting. With the increasing sophistication of cyber threats, electronic voting systems need to be resilient against hacking attempts, data breaches, and manipulation of votes.
Privacy: Protecting the privacy of voters is essential in any voting system. Electronic voting should ensure that individuals can cast their votes without fear of their personal information being compromised or their votes being traced back to them.
Accessibility: Electronic voting should be accessible to all individuals, including those with disabilities or limited technological literacy. Ensuring that the voting system is user-friendly and accommodates different needs is crucial for an inclusive democratic process.
Legal and Regulatory Framework: Establishing a legal and regulatory framework for electronic voting can be challenging. Clear guidelines and standards are needed to govern the use of technology, protect voter rights, and address any potential legal and ethical implications.
Infrastructure and Resources: Implementing electronic voting requires adequate infrastructure and resources. Developing and maintaining secure voting platforms, training election officials, and ensuring sufficient technical support can pose significant challenges.
Resistance to Change: Introducing electronic voting may face resistance from stakeholders who are accustomed to traditional voting methods. Addressing concerns, educating stakeholders, and building consensus are essential to overcome resistance and promote adoption.
Voter Confidence: Ensuring voter confidence in electronic voting systems is crucial. Demonstrating the reliability, transparency, and security of the technology is essential to gain public trust and encourage participation in the electoral process.
Scalability: As the number of voters and transactions increases, electronic voting systems need to scale efficiently to handle the load. Scalability is a challenge that requires robust technological solutions to ensure a smooth and reliable voting experience for all participants.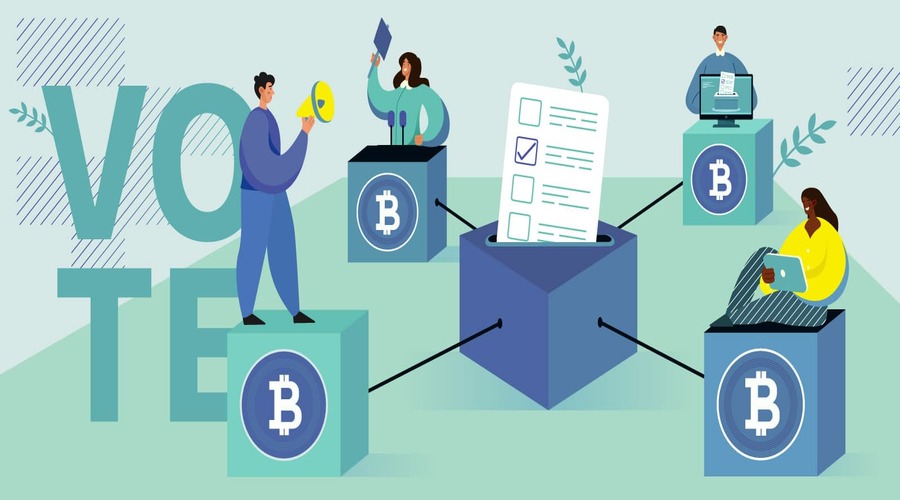 Blockchain Solutions for Verifiable Electronic Voting
Blockchain provides innovative solutions to address the challenges in electronic voting. By leveraging its decentralized and transparent nature, blockchain enables verifiability and auditability of the voting process. The use of smart contracts can ensure the enforcement of voting rules, eliminating the need for intermediaries and reducing the potential for manipulation.
Benefits of Blockchain in Electronic Voting
Implementing blockchain technology in electronic voting brings numerous benefits. First and foremost, it enhances the security and trustworthiness of the voting process. The decentralized nature of blockchain reduces the risk of a single point of failure or manipulation. Furthermore, the immutability of the recorded votes ensures that they cannot be altered or tampered with.
Another significant advantage is the elimination of voter fraud. With blockchain, each vote is securely recorded and linked to the individual voter, making it nearly impossible to manipulate or duplicate votes. This fosters a more transparent and democratic electoral process.
Moreover, blockchain-based voting systems increase accessibility and convenience for voters. By enabling remote voting and reducing the reliance on physical polling stations, individuals can participate in the electoral process more easily, regardless of their location or mobility.
Case Studies
Several real-world examples demonstrate the successful implementation of blockchain in electronic voting. Estonia, for instance, has been utilizing blockchain technology since 2014 for its national elections. The system provides secure digital identities and allows citizens to vote from anywhere in the world.
Another notable case is the West Virginia pilot project, where blockchain was used to enable military personnel stationed overseas to cast their votes securely. This initiative showcased the potential of blockchain in ensuring the integrity of the voting process for remote voters.
Potential Concerns and Limitations
While blockchain offers significant advantages for electronic voting, there are also potential concerns and limitations that need to be considered. One of the primary concerns is privacy. As blockchain transactions are transparent and immutable, it raises questions about the anonymity of the voters and the potential for voter coercion.
Scalability is another challenge when it comes to blockchain-based voting systems. As the number of participants and transactions increases, the blockchain network needs to handle a higher volume of data, potentially leading to slower processing times and increased costs.
Furthermore, the adoption of blockchain in electronic voting requires overcoming legal and regulatory hurdles. Policies and regulations need to be established to ensure the compatibility of blockchain with existing electoral frameworks and address any legal implications related to voter privacy and data protection.
Future Outlook
The potential for widespread adoption of blockchain in electronic voting is promising. As the technology matures and addresses scalability and privacy concerns, we can expect to see increased experimentation and implementation of blockchain-based voting systems.
Ongoing research and development in the field of blockchain and electronic voting will further refine the technology and address the remaining challenges. Collaboration between industry experts, policymakers, and electoral authorities is crucial to develop robust and secure blockchain solutions for verifiable electronic voting.
Conclusion
Blockchain technology holds immense potential for revolutionizing electronic voting systems. By providing transparency, security, and verifiability, blockchain can enhance the trust and integrity of the electoral process. While there are challenges and limitations to overcome, the benefits offered by blockchain in electronic voting make it an avenue worth exploring further.
---
FAQs
1Q: Can blockchain prevent hacking in electronic voting? A: Blockchain technology enhances the security of electronic voting systems by decentralizing the data and employing cryptographic mechanisms. While no system is entirely foolproof, blockchain significantly reduces the risk of hacking and tampering.
2Q: How can blockchain ensure the anonymity of voters? A: Blockchain can ensure the anonymity of voters through the use of cryptographic techniques. While the transactions themselves are transparent on the blockchain, the identity of the voters can remain anonymous through the encryption of personal data.
3Q: Is blockchain voting more expensive than traditional methods? A: Initially, implementing blockchain-based voting systems may involve higher costs due to infrastructure setup and technological requirements. However, in the long run, the elimination of intermediaries and the prevention of voter fraud can lead to cost savings and increased efficiency.
4Q: Are there any real-world examples of blockchain-based voting systems? A: Yes, there are real-world examples of blockchain-based voting systems. Estonia has been using blockchain for national elections since 2014, and the West Virginia pilot project successfully implemented blockchain for secure voting for military personnel stationed overseas.
5Q: What are the potential risks of using blockchain in electronic voting? A: Some potential risks of using blockchain in electronic voting include concerns about privacy, scalability, and the legal and regulatory framework. Ensuring voter privacy while maintaining the transparency of the voting process, addressing scalability challenges, and establishing appropriate regulations are important considerations.